Producers Landmark Productions, Neal Street and Playful Productions transferred Gabriel Byrne's acclaimed solo show Walking with Ghosts, an adaptation from his best-selling memoir, to the Apollo Theatre in London in 2022.
Making his West End debut, master storyteller and Hollywood star Byrne, performed the show for a limited season of just 14 performances from 6 - 17 September, 2022.
The production opened at the Gaiety Theatre in Dublin in February this year where it sold out. It received enormous critical and public acclaim. Byrne was described as a "master of his craft" (Sunday Times), "captivating" (Financial Times) and the production as "storytelling at its simple best" (Business Post).
Gabriel Byrne said: "'It was a real joy to hear laughter in a theatre during the premiere run of Walking with Ghosts in Dublin. Although I've appeared several times on Broadway, I've always had an ambition to work on the West End stage. I'm looking forward immensely to the experience of performing at the beautiful Apollo Theatre.
I've chosen to be honest and unflinching in the recounting of a life from working class Dublin to Hollywood. Although rooted in the local, I hope the play has a universal resonance. What I want in the theatre is to be moved to laugh ... to be provoked ... to be changed. I think Walking with Ghosts sets out to fulfil that."
Lonny Price said: "I am thrilled we're bringing Gabriel Byrne's theatrical adaptation of his gorgeous memoir, Walking with Ghosts, to London. Not only is Gabriel one of the greatest actors of his generation, but his writing is funny, deeply moving, and wise."
The London performances of Walking with Ghosts were made possible by the support of Culture Ireland.
The Broadway transfer of Walking with Ghosts played at Music Box Theatre for a limited run of 75 performances, running from 18th October to 30th December 2022, with an opening night on the 27th October.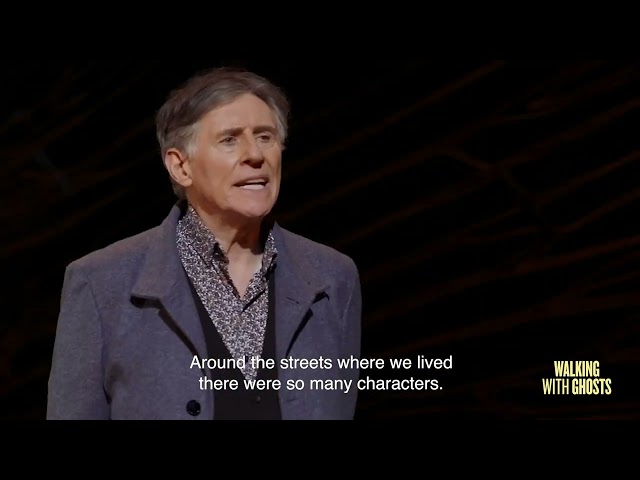 About
Gabriel Byrne's career as an actor, writer and director spanned both stage and screen. He has starred in over 80 films working with Hollywood's great and good. His work on Broadway has seen him win multiple awards and nominations including a Golden Globe for his role in the television drama In Treatment.
As a young boy growing up on the outskirts of Dublin, Gabriel Byrne sought refuge in a world of imagination among the fields and hills near his home, at the edge of a rapidly encroaching city. Moving between sensual recollection of childhood in a now almost vanished Ireland and a commentary on stardom in Hollywood and on Broadway, he reflects on a life's journey.
By turns hilarious and heartbreaking, Walking with Ghosts is a lyrical homage to the people and landscapes that ultimately shape our destinies.
Key Creatives & Cast
Writen and Performed by Gabriel Byrne
Directed by Lonny Price
Set and Lighting Design by Sinéad McKenna
Costume Design by Joan O'Clery
Sound Design by Sinéad Diskin
Associate Director Matt Coward
Productions
Music Box Theatre, Broadway. 18th October to 30 December, 2022
more >
Apollo Theatre, West End. 6th - 17th September, 2022
more >
Reviews
"One of Ireland's finest performers. A master of his craft"
Sunday Times
"Byrne's charisma is captivating throughout"
Financial Times
"A beautiful writer and wonderful physical comedian"
Guardian