A co-production with Neal Street, Nica Burns of Nimax Theatres and Headlong, in association with Jonathan Church Productions and Gavin Kalin.
Presenting the National Theatre and Chichester Festival Theatre production in the West End at the Garrick Theatre 19th November, 2016 to 25th February, 2017.
This House was first presented at the National Theatre and received unprecedented critical praise playing two sell-out runs (Cottesloe Theatre 18th September - 1st December, 2012 & Olivier Theatre February - May, 2013). The show was later revived with an equally successful run at the Chichester Festival Theatre in September 2016 prior to its West End transfer to the Garrick Theatre November 2016 to February 2017, where it again struck a chord, playing to sell-out houses and celebrated with outstanding reviews.
In May 2019 the play was voted Play of the Decade in Bloomsbury Publishing's '60 Years of Modern Plays' public vote.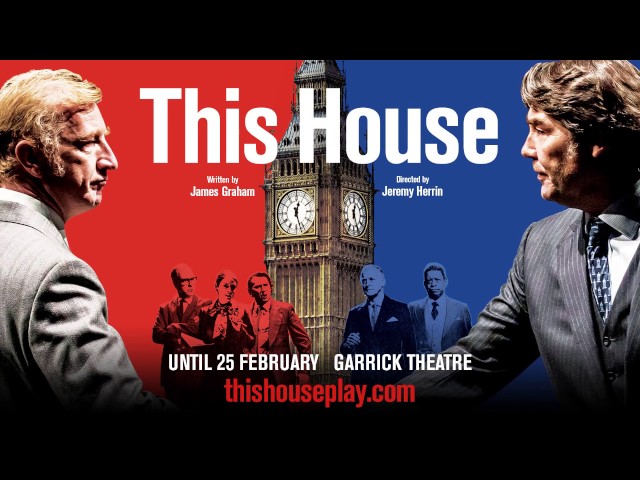 "This country is being kept alive on aspirin when what it needs is electric bloody shock therapy."
About
1974. The UK faces economic crisis and a hung parliament. In a culture hostile to cooperation, it's a period when votes are won or lost by one, when there are fist fights in the bars and when sick MPs are carried through the lobby to register their vote. It's a time when a staggering number of politicians die, and the building creaks under idiosyncrasies and arcane traditions.
Set in the engine rooms of Westminster, James Graham's This House strips politics down to the practical realities of those behind the scenes: the whips who roll up their sleeves and on occasion bend the rules to shepherd and coerce a diverse chorus of MPs within the Mother of all Parliaments.
Key Creatives & Cast
Key Creatives:
Written by James Graham
Directed by Jeremy Herrin
Designed by Rae Smith
Sound Design by Ian Dickinson
Lighting Design by Paule Constable
Movement by Scott Ambler

Original West End Cast:
Phil Daniels
Nathaniel Parker
Steffan Rhodri
Kevin Doyle
Malcolm Sinclair
Sarah Woodward
David Hounslow
Ed Hughes
Lauren O'Neil
Productions
Chichester Festival Theatre, The Minerva. 23rd September - 29th October, 2016
Garrick Theatre, West End. 19th November, 2016 - 25th February, 2017
Reviews
"A thrilling play that both re-lives history and transcends it"
The Guardian
"Ferociously witty and permeated by a deep sense of the tragi-comic nature of all political systems"
Daily Telegraph
"Dazzlingly intelligent, scrupulously well-researched and funny"
Independent