Together with co-producers Fiery Angel, Neal Street commissioned the English adaptation of Francis Veber's 1969 Parisien hit, "Le Contrat".
The production was initially developed with Kenneth Branagh and Rob Brydon for its Premiere at the Lyric Theatre, Belfast. It then transferred to the Garrick Theatre, London under the umbrella of the Kenneth Branagh Season, delighting capacity houses.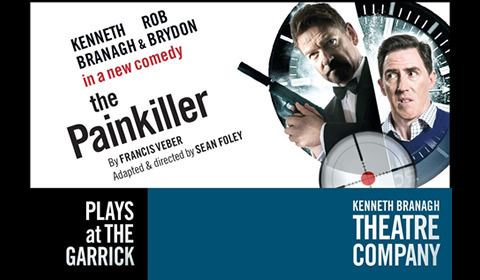 Key Creatives & Cast
Key Creatives:
Adapted by Sean Foley from Francis Veber's Le Contrat
Directed by Sean Foley
Costume designer Alice Power
Sound design by Ben & Max Ringham
Lighting design by Tim Mitchell
Cast:
Kenneth Branagh
Rob Brydon
Claudie Blakley
Mark Hadfield
Alex Macqueen
Marcus Fraser
Productions
Lyric Theatre, Belfast. 23rd September - 16th October, 2011
Garrick Theatre, West End. 5th March - April 30th, 2016
Reviews
"This is a very funny play with a number of utterly uproarious moments served up at a relentlessly furious pace. But the main fascination throughout is leading man Kenneth Branagh, who offers a lesson in how high talent can play low farce. Known best for his classical roles, he delivers a sustained demonstration of inspired clowning, somehow bringing real subtlety to slapstick."
The Independent
"If Branagh supplies a masterclass in physical comedy, there is a sweetness about Rob Brydon's forlorn cuckold that becomes genuinely touching as the action progresses, and the play finally achieves something I have never experienced in a farce before. The laughs keep on coming, but by the end you also find yourself unexpectedly moved."
Daily Telegraph