Created and written by John Logan, Penny Dreadful is a psychological thriller filled with dark mystery and suspense, where personal demons from the past can be stronger than vampires, evil spirits or immortal beasts. Some of literature's most terrifying characters, including Dorian Gray, Dr. Frankenstein and his monster, and iconic figures from the novel Dracula are lurking in the darkest corners of Victorian London. They are joined by a core of original characters in a complex, frightening new narrative.
The three seasons received much critical acclaim, along with 13 Primetime Emmy nominations, as well as a Golden Globe nomination for lead actress Eva Green, and won three BAFTA Awards.
A Neal Street and Desert Wolf Production for Showtime and Sky Atlantic.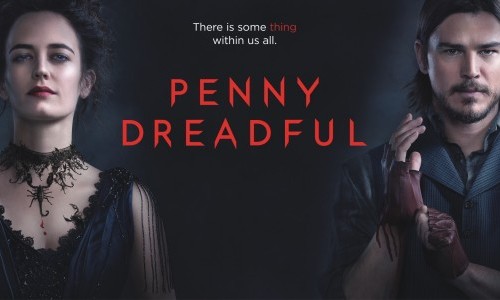 Winner of 3 BAFTA TV Craft Awards and more
See more >
Key Creatives & Cast
Created and Written by John Logan

Directed by
J.A Bayona (Eps 1 & 2)
Dearbhla Walsh (Eps 3 & 4)
Coky Giedroyc (Eps 5 & 6)
James Hawes (Eps 7 & 8)
Produced by Chris King, Karen Richards, James Flynn, Morgan O'Sullivan
Co-Produced by Nicolas Brown, Sheila Hockin
Executive Produced by Sam Mendes, Pippa Harris, John Logan
Cast
Eva Green
Josh Hartnett
Timothy Dalton
Harry Treadaway
Simon Russell Beale
Reeve Carney
Billie Piper
Rory Kinnear
Danny Sapani
Helen McCrory
Olivia Llewellyn
Created and Written by John Logan
Directed by
James Hawes (Eps 1, 2 & 6)
Brian Kirk (Eps 3, 7, 9 & 10)
Damon Thomas (Eps 4 & 5)
Kari Skogland (Ep 8)
Produced by Chris King, Karen Richards, James Flynn, Morgan O'Sullivan
Co-Produced by Nicolas Brown, Sheila Hockin
Executive Produced by Sam Mendes, Pippa Harris, John Logan
Cast
Eva Green
Josh Hartnett
Timothy Dalton
Harry Treadaway
Simon Russell Beale
Reeve Carney
Billie Piper
Rory Kinnear
Danny Sapani
Helen McCrory
Sarah Greene
Olivia Llewellyn
Patti LuPone
Douglas Hodge
Created and Written by John Logan

Produced by James Flynn, Morgan O'Sullivan, Sheila Hockin
Co-Produced by Nicolas Brown
Executive Produced by Sam Mendes, Pippa Harris, John Logan, Chris King, Karen Richards

Directed by
Damon Thomas (Eps 1, 2, 3, 8)
Toa Fraser (Ep 4)
Paco Cabezas (Eps 5, 6, 7 & 9)
Cast
Eva Green
Josh Hartnett
Timothy Dalton
Harry Treadaway
Simon Russell Beale
Reeve Carney
Billie Piper
Rory Kinnear
Danny Sapani
Helen McCrory
Sarah Greene
Patti LuPone
Douglas Hodge
Wes Studi
Christian Camargo
Jessica Barden
Shazad Latif
Samuel Barnett